In partnership with AIA Chicago and IBPSA-USA Chicago
The Chicago Chapter of IBPSA-USA and AIA-Chicago will host the Design 2 Decarb: Chicago Conference in June 2022. This one-day event offers the Chicago AEC community a deep dive into decarbonization strategies local and relevant to the City and surrounding region. The conference will explore  Chicago-area decarbonization policy, carbon data analysis, best practice case studies, and carbon reduction strategies for the future. A diverse slate of presenters includes local leading architects, engineers, scientists, students, government officials, utility company representatives, product designers, and ESG professionals. The anticipated program includes a keynote speaker, four moderated panel presentations, and a closing session.
Sponsors & Supporting Organizations
Program
Venue
Registration
Sponsorship
D2D Steering Committee
Program
8:00 – 8:30 AM – KEYNOTE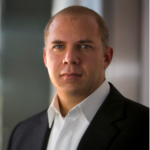 Gordon Gill –  Gordon Gill FAIA, OAA, is a founding partner of the award-winning Chicago design firm Adrian Smith + Gordon Gill Architecture. His work includes the design of the world's first net zero-energy skyscraper, Pearl River Tower in Guangzhou, China; the world's first large-scale positive energy building, Masdar Headquarters designed for Abu Dhabi, UAE; the world's tallest tower, Jeddah Tower in Jeddah, Saudi Arabia; and Al Wasl Plaza, the central open space for Expo2020 Dubai featuring an intricate domed trellis that is world's largest immersive projection experience
8:30 – 10:00 AM – TRACK 1 – Chicago & Illinois Sustainability, Energy Efficiency, and Decarbonization Policy
MODERATOR – Katie Kaluzny (Illinois Green Alliance)
Illinois Clean Energy Jobs  Act – Andrew Barbeau (Accelerate Group) 
New 2021 IL Energy Code – Saagar Patel (ESD) 
Chicago Decarbonization Recommendations: The Process – Sandra Henry (Elevate) 
10:30 – 12:00 PM – TRACK 2 – Calculating Chicago's Carbon Footprint
MODERATOR  – Scott Farbman (dbHMS) 
Embodied Carbon Analysis – Luke Leung (SOM) 
Operational Carbon & Energy Usage – Amy Jewel (Elevate) 
Carbon Interdependencies & Analysis  –Ralph Muehleisen (Argonne) 
 1:00 – 2:30 PM – TRACK 3 – Chicago's Best Practices
 MODERATOR:  –Mark Milby (ComEd) 
A Low Rise Residential Success Story – Tom Basset-Dilley (TBD Architects) 
An Institutional Success Story – Doug Farr (Farr Architects) 
The Array of Things – Charlie Catlett (Discovery Partners Institute)
3:00 – 4:30 PM – TRACK 4 – Looking to Chicago's Future 
MODERATOR – Brian Imus (Illinois Green Alliance) 
Student Presentation – Illinois Institute of Technology
New Technologies – Tommy Gibbons (Hempitecture)
Corporate Carbon Reduction Strategies – Jessica Bollhoefer (Google)
4:30 – 5:00 PM – CLOSING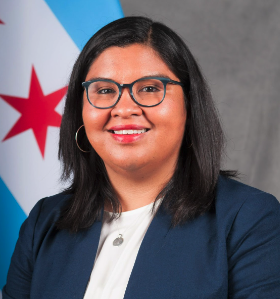 Angela Tovar (City of Chicago)
Angela Tovar has worked as a community planner, program manager and climate and environmental justice advocate for over 15 years. In 2020, Angela was appointed as the Chief Sustainability Officer for the City of Chicago by Mayor Lori Lightfoot. Angela has committed to centering the City of Chicago's climate and sustainability agenda on equity and mitigating environmental harm in Chicago's most overburdened and underserved communities. Angela began her career in the public sector in 2019 as a Program Manager for Cook County Department of Environment and Sustainability where she focused her efforts primarily on clean energy programming. Prior to that, Angela worked in the South Bronx for over a decade, first as the Director of Policy for Sustainable South Bronx and later as the Director of Community Development for the POINT CDC. In these roles, Angela oversaw community partnerships, advocacy and environmental justice efforts, and climate mitigation, including the development and implementation of a community-based climate resiliency plan known as The South Bronx Community Resiliency Agenda. Angela's passion for social and environmental justice stems from her experience growing up on the industrial waterfront of Lake Michigan on Chicago's Southeast side. She holds a B.A. in Urban Studies from the College of Charleston and a Masters in Urban Planning from City University of New York – Hunter College.
Venue
Registration
Sponsorship
D2D Steering Committee