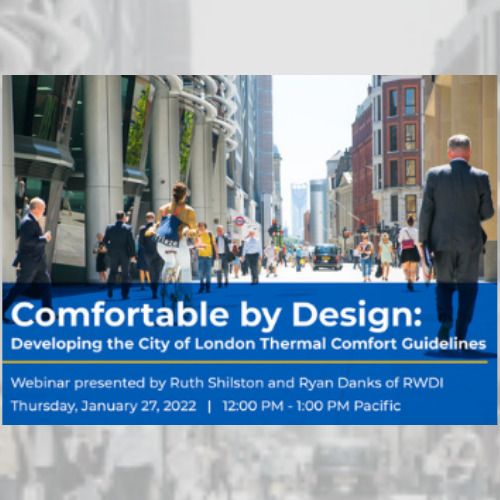 Comfortable by Design: Developing the City of London Thermal Comfort Guidelines
A building can affect its surroundings in many ways, from reflecting or limiting sunlight to altering wind patterns, all of which affect how comfortable a person feels in a public space. A space which is comfortable throughout the year, or in specific seasons is of high value to a City in terms of creating high quality amenity spaces, pleasant streets and commercially viable external eating and drinking establishments. The need for open-air public spaces has also never been more important, now more than ever people are heading outside in search of public spaces to exercise, rest and relax.
For these reasons, The City of London launched Thermal Comfort guidelines in December 2020. These guidelines are expected to be implemented on all new major developments within the City of London and will require an addition assessment and reporting. This webinar will cover how and why the Thermal Comfort guidelines were produced and how they should be implemented onto projects.
Learning Objectives:
Have an awareness of the motivation behind the creation of the guidelines

Understand the specific assessment methodology and how to compute the UTCI comfort metric

Discuss the use of the guidelines within the City of London

Discuss the use of the guidelines more widely
Speakers:
Ruth Shilston

is a technical leader specializing in wind engineering, microclimate design and thermal comfort. Her focus is on major projects, working with design teams to create buildings and infrastructure which are suitable for their unique climate. To quantify the success of a design she is an experienced user of computational fluid dynamics, thermal and solar analysis tools as well as making regular use of RWDI's on-site boundary layer wind tunnel. Ruth has a degree in Engineering Design from the University of Bristol, is a Chartered Engineer and Fellow of the Institution of Mechanical Engineers.

Ryan Danks

is a senior engineer and Associate at RWDI who is focused on the research and development of tools and methodologies to better simulate the interaction between the built and natural environments. His work involves the use of computational fluid dynamics, as well as solar radiation and human physiological modelling to help architects and urban planners create climate aware designs across the globe that emphasize efficiency and human comfort.