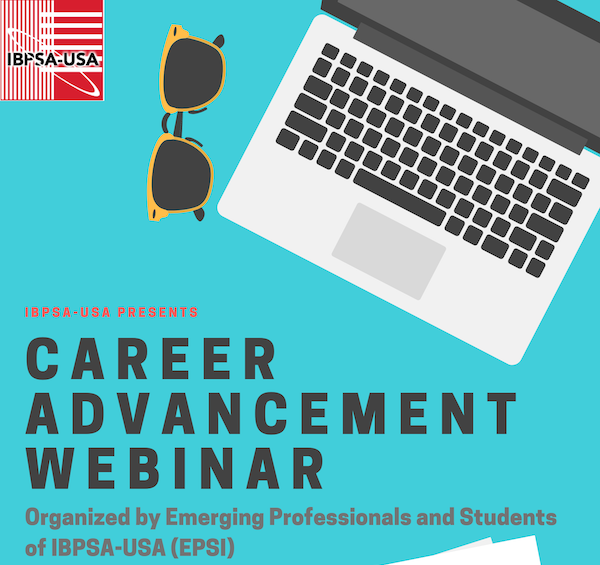 EPSI Career Advancement Webinar
The struggle and anxiety while searching for your dream job is a reality. With no exact templates on how to create a resume for the job you are applying for and no right answers on why and how to connect to people in your industry, the process just gets more and more overwhelming. The only way to get these insights is by getting into the minds of the professionals who need to fill "that" position in their team and also have been in your position a few years back. Thus, this event brings you an interview format webinar, where we will ask questions to some of the experienced professionals in the building performance industry. It will cover three areas of discussion – resume and interviews, overview of certifications, and communication, presentation and networking. There will be an exciting Q and A session at the end, where YOU will get an opportunity to put forward your own questions. Don't shy away, if you have some questions that you are hesitant to ask, you can send them to 
epsi@ibpsa.us
 and we will get those questions answered anonymously.
Date & Time: 
Monday, December 13, 2021 at 11:00 AM – 12:00 PM Pacific
Register Here on Eventbrite
Presenters:
Fred Betz
, Building Performance Consultant (Affiliated Engineers, Inc.) Dr. Betz is the immediate past department head of AEI's Madison Building Performance Practice having served five years in that role and is the current department head for AEI's Madison Intelligent Buildings Practice. His areas of expertise include high performance design focusing on energy, water, resilience and occupant experience focused on large, complex buildings such as hospitals and laboratories. Fred and his team leverage a wide variety of building performance modeling and programming tools to aide in the design and compliance of new construction and major renovation projects as well as enhancing the operation of existing buildings through data analytics. Fred serves on a number of committees including ASHRAE SPC 191P (Chair), ASHRAE TC 2.8 (NVM), ASHRAE Green Guide, ASHE Sustainability Advisory Group, and US EPA Water Reuse Action Plan.
Ajit Naik
, Sr. Commissioning  & Energy Engineer (Baumann Consulting) Ajit Naik joined Baumann Consulting's Chicago office in January 2018 as a Senior Commissioning & Energy Engineer. He is a licensed Professional Engineer in Illinois and serves on IBPSA-USA's Chicago chapter board. Trained as a mechanical engineer and interested in the build environment, Ajit has spent the last eight years in the AEC industry working in Wisconsin, Germany, and Illinois. His practice focuses on design-integrated  building simulation, code compliance consulting, HVAC design, systems commissioning, operational troubleshooting, and sustainability certification for a wide portfolio of commercial-scale, local and international projects. When not working, Ajit enjoys cooking, biking, hiking, and obsessively browsing Wikipedia.
Supriya Goel
, Senior Energy Research Engineer (Pacific Northwest National Laboratory) Supriya Goel is a Senior Research Engineer at Pacific Northwest National Laboratory. Her current research is focused on development of performance-based approaches for building energy codes and standards and simulation tools for analysis of buildings. She is the Vice President of IBPSA-USA, chair of ASHRAE Standard 229P, a voting member of ASHRAE Standard 211 and a consultant to ASHRAE Standard 90.1. She was awarded the Emerging Professional Award by IBPSA-USA in 2018 and was recognized in CSE's 40 under 40 class of 2021.