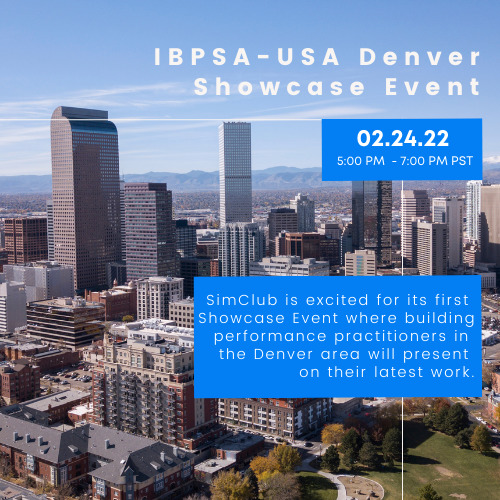 IBPSA-USA Denver: Showcase Event
SimClub is excited for its first Showcase Event where building performance practitioners in the Denver area will present their latest work. This event will have two presentation topics:
Smart building software platform to enable decision-making with portfolios of buildings
Combining high-performance indirect evaporative coolers with heat pumps
___
People who manage lots of buildings often have limited visibility and control over their building systems or data. This makes it hard to make important business decisions about their portfolio, implement change consistently, or verify operations. A smart building software platform that connects all types of data from all types of buildings, to give visibility into building performance. Unlike a BMS or energy management tool, one central command and control center is provided for an entire portfolio to help make data-driven decisions about their global real estate assets.
___
High-performance indirect evaporative coolers now have the ability to shoulder significant portions of the air-conditioning load across the western US, bringing powerful enhancements to cooling efficiency and ventilation rates at a time when both are acutely needed. Hybridization with heat pumps allows for dehumidification and heating when needed. This can be accomplished within a packaged unit, or by parallel systems at the building level. Both approaches can be modeled with the ZoneHybrid module in EnergyPlus. Parametric simulations show hybridization can result in annual cooling savings ranging from 33% to 85% over a range of applications while flushing contaminants from the space with 30% to 100% fresh air. These outcomes agree with experience and field results are shared to support the projections.
Rebecca Reel 
Rebecca Reel is a mechanical engineer by education, application and mindset driven by efficiency and simplicity. Starting her career in construction, moving to mechanical system design from central plants, industrial manufacturing, private sector and public facilities, to energy modeling and sustainability consulting before moving into proptech. She is currently leading Switch's North American smart building engineering team to help buildings to portfolios of buildings use data to reach their operational objectives. Rebecca is PE, LEED AP BD&C, RESET & Smart Building Certification Certified.
Steven Slayzak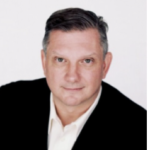 Steven Slayzak is VP of Technology for Seeley International, where his responsibilities include product innovation and thought leadership. He has over 25 years experience in building science R&D focused on advanced cooling and thermal conversion technologies, leading $17M in projects for the U.S. Departments of Energy and Defense. Steve is an IBM Watson Scholar and R&D 100 Award winner for his work on Desiccant Enhanced Evaporative Cooling. He has chaired ASHRAE's Desiccant Dehumidification and Evaporative Cooling committees, has masters and bachelors degrees in Mechanical Engineering from Purdue and Rensselaer, and has authored over two dozen publications and three patents in heat/mass transfer and air cleaning/conditioning technology. Seeley International is Australia's largest HVAC manufacturer and a global leader in developing ingenious, energy efficient cooling and heating products, deployed worldwide in over 120 countries.