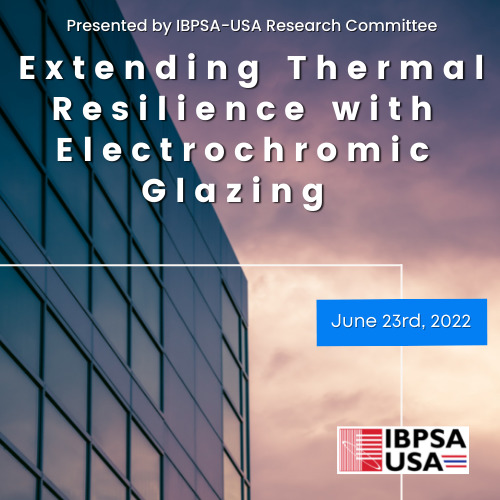 Extending Thermal Resilience with Electrochromic Glazing
Curtain wall glazing and airtight envelopes have become common building design features driven by both aesthetic and energy code requirements. One potentially negative implication is that in the case of power failure or isolated HVAC system failure such buildings can become uninhabitable within a short time due to excessive solar gain through large windows.  
This lecture will evaluate the thermal resilience (fewer hours of discomfort & lower peak temperatures) benefit of Electrochromic (EC) glazing vs traditional low-e glazing, during a temporary loss of mechanical cooling in summer. The premise of this study is that EC glazing, with its tunable solar transmission, going down to as low as 0.07 SHGC, can provide additional hours of occupancy under loss of HVAC, maintaining comfort and allowing critical operations to continue. The power draw of such a product is low and a relatively small backup power supply can control the glazing units if the building power supply fails.
This study will present simulated air temperatures under HVAC system failure in a fully glazed typical commercial office model across different climates. In addition, measured temperature data collected from a case study of two identical 1000 sqft apartment units in Boston will be presented.
SPEAKER:
Ranojoy (Ronny) Dutta:
Ranojoy manages a team of building performance specialists spanning all aspects of simulation and modelling including daylight analysis, thermal comfort and energy performance . He regularly collaborates with architects, engineers and sustainability consultants to develop project specific value propositions using dynamic glazing to create high performance buildings where occupants can be fully productive and thrive. He strives to help designers and engineers with simulation based guidance they can use to make informed design choices . He has degrees in architecture , facilities planning and building simulation.