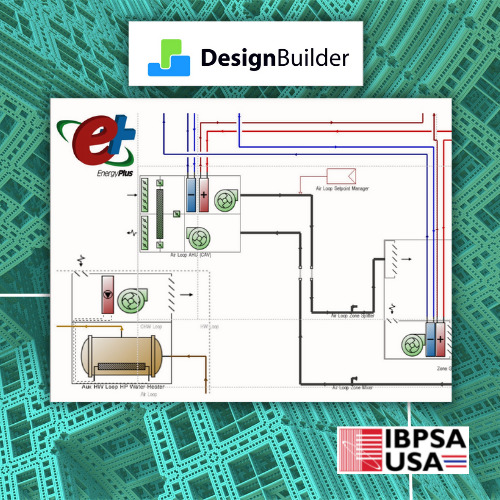 Advanced HVAC System Modeling
This webinar will show advanced HVAC system modeling and controls using DesignBuilder's Detailed HVAC capabilities. Detailed HVAC provides greater accuracy and flexibility for system design and control, and is easier and more intuitive than you might imagine. The webinar will cover:
Pre-defined Detailed HVAC templates as a starting point to model commonly used
HVAC systems


Combining different HVAC components to create bespoke project-specific system
configurations


Using heat exchangers to provide incredible versatility, with the ability to connect
different systems for energy transfer and heat recovery


Using storage systems


How DesignBuilder's scripting tools can be used to configure more advanced HVAC
systems and controls, such as equipment sequencing and load shifting to ensure optimal
energy use
This webinar builds on DesignBuilder's previous 'Modeling HVAC Systems from Concept through Detailed Design Stages' webinar. The basics of HVAC modeling, including a typical workflow from Simple through to Detailed HVAC, were covered in that webinar. The recording is freely accessible here.
DesignBuilder have also recently released a new series of "Detailed HVAC" tutorials that provide concise guidance in key areas of HVAC system modeling.
The tutorials are freely accessible from their Tutorials Webpage and cover several essential areas of modeling. If you have never received DesignBuilder training, or were trained using earlier versions of the software, it is recommended that you view these short, high-impact tutorials. 
You can register to watch this free Advanced HVAC System Modeling webinar live on 10 th August, or to access the recording here