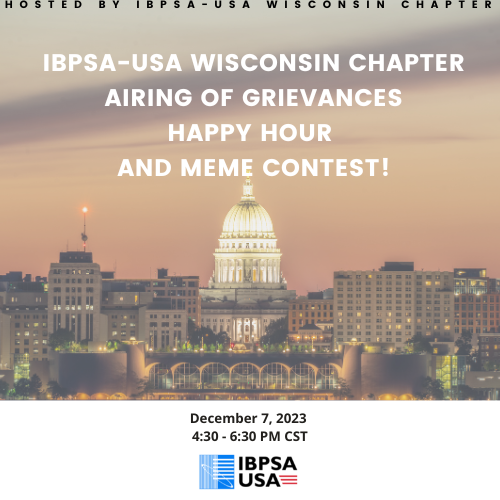 IBPSA-USA Wisconsin Chapter Happy Hour
Event Details
Building codes stuck in the dark ages?! Gas utilities using tobacco tactics to avoid gas stove regulations?! Buildings with too much glazing for their own good?! It is that time of year again as building science and sustainability professionals in Wisconsin will air their grievances at a happy hour!
Thursday December 7th, 4:30-6:30pm CST
This event will be held at:
Delta Beer Lab
167 E Badger Rd, Madison, WI 53713
New this year! A meme building science and sustainability meme contest! Please unleash your creativity and submit a meme for your chance to win a gift card (please keep it appropriate, clean, and inclusive). Also, new this year – a meet and greet with the IBPSA-USA DEI Consultant, Dr. Ida Balderrama-Trudell!
Event Registration
Please fill in your details in the Event Registration Form below and you will be automatically registered. Event registration must be completed at least (2) days prior to the event. Contact admin@ibpsa.us for any questions or issues.